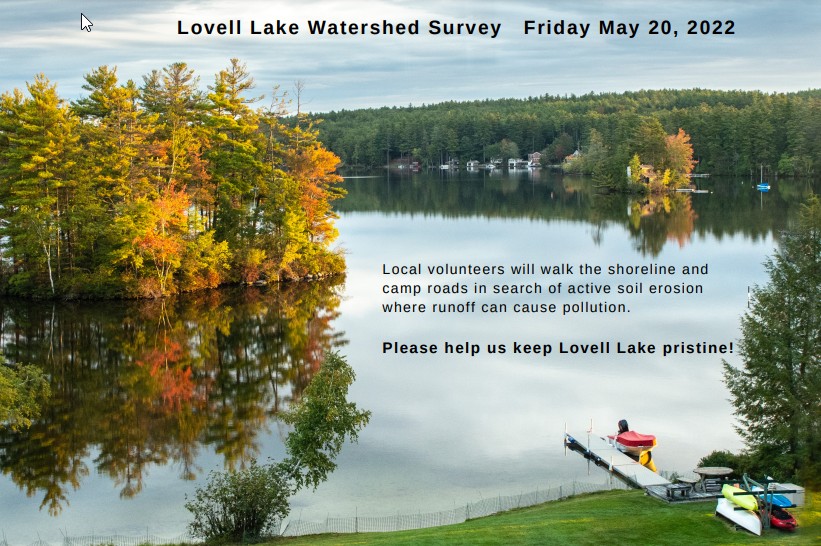 The Lovell Lake Community shares a common love and appreciation for our lake. We all agree that keeping the lake in pristine condition is critical to sustaining and enjoying this treasure. As you may know the runoff from erosion is a source of pollution because it carries nutrients into the lake. These nutrients degrade the water clarity and stimulate growth of harmful cyanobacteria blooms.
On May 20 volunteers and technical staff will survey the entire Lovell Lake watershed in search of active soil erosion. The survey goals are to make technical recommendations, work with property owners to find solutions, and ultimately protect the land and water for future generations. Additional Volunteers are needed.
This survey is voluntary. Information gathered will not be used for enforcement, nor will property owners be required to fix the erosion issues. If there is a dwelling on the property, our volunteers will knock on doors the day of the survey and respect your privacy. AWWA can assist with any remediation projects you may want to engage in.
For additional information on volunteering, or to be excluded from this survey please send a note to the Lovell Lake Association, PO Box 232, Sanbornville, NH 03872, or email watershedsurvey@lovelllakeNH.org.
Thank you for your cooperation in helping us maintain the health and beauty of Lovell Lake for future generations.