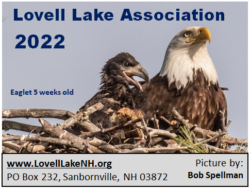 Membership
Those interested in and concerned about the welfare of Lovell Lake and its environs are eligible for membership. Only members in good standing 18 years of age and older shall have the privilege to vote at meetings.
To join, To pay by check, print the Membership Dues Form and mail with payment.  To pay with credit card, click here.
Individual and Family Membership – $25.00 per year
Optional Donations
The annual operating budget of the Lovell Lake Association (LLA) is funded almost entirely by the annual membership fees and donations. We welcome donations in any amount. The association is a 501(c)(3) charitable organization and eligible for corporate matching. It is our policy to not share membership information with third parties.
Additional contributions beyond the membership dues are recognized as follows:
Silver Member $10 -$49
Gold Member $50 – $$99
Platinum Member $100 -$249
Golden Loon Member $250+
In addition to our General Fund, we have five specific program donation categories (see below), or you may donate in honor of an individual or in memoriam. Click below for contribution details.
Corporate Matching
Match your donation if you can! We are a 501(c)(3) charitable organization and eligible for corporate matching.  Ask your employer if they will match your donation.
No Sharing Policy
The Lovell Lake Association does not share donation information with third parties.
L

LA Program Donation Details
LAKE HOST PROGRAM
These donations support all aspects of our last line of defense to prevent the introduction of milfoil or any other invasive aquatic species.
WATER QUALITY
These donations support the study and analysis of all aspects of water quality including but not limited to the weekly sampling and testing by the labs at UNH and Acton Wakefield Watersheds Alliance.
GENERAL FUND
These donations support the many activities of the Association such as the newsletter, postage, boat parade, Lake Host costs not covered by other sources such as designated additional optional donations, tax-exempt status fees, insurance costs, PO Box expenses, annual meeting costs, membership costs to the NH Lakes Association, etc. A very important additional use of funds is the establishment and maintenance of a "War Chest" to be used to combat and treat any outbreak of milfoil or any other invasive species should such an outbreak occur. The timing and thoroughness of our action plan response will be critical in determining our chances to eradicate the invasive species.
SCHOLARSHIP FUND
The LLA has had a long tradition in supporting worthy candidates. Our goal is to provide one $1,000 scholarship per year. However, if there are sufficient funds and there are additional viable candidates more than one scholarship may be awarded. This fund is the sole source of scholarship funds.
LOON PRESERVATION
For those interested in the loons on Lovell Lake, the Association is willing to collect money and annually forward the money collected to the NH Loon Preservation Committee.
IN MEMORIAM AND/OR HONOR OF
Donate in honor of an individual or in memoriam thereof.